Ambassadors of adventure
by
We've just launched a new film that will spearhead a second phase of our successful Proven Performance campaign for SACHS. The Proven Performance campaign demonstrates the power of SACHS as a brand by showing how it supports the fastest and toughest vehicles as they triumph over challenges in a range of environments.

The new stage of the campaign will focus on heroes of motorsport who are all proven performers in their own right and have used, or are preparing to use, SACHS parts in their vehicles. Through the SACHS Ambassador Campaign these outstanding professional drivers will become the faces of SACHS, recognisable to motorsport fans around the world.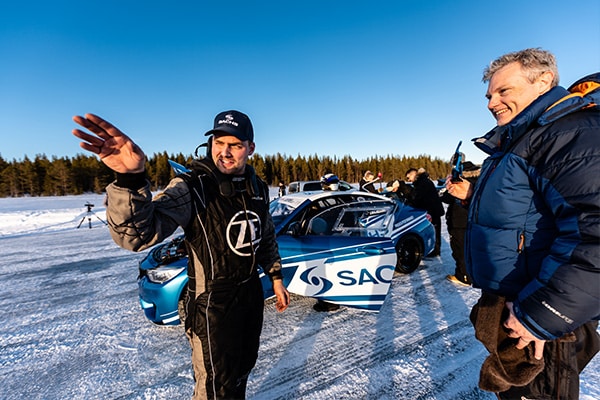 Above: Joachim Waagaard (left) talks drifting with Account Director Luke Brason
The new film stars Joachim Waagaard, one of the top drivers in Norway with tens of thousands of followers on Facebook. Shot by our Creative Director Matt Norwood, the film follows the driver onto a sheet of ice in Lapland, where he performs a series of spectacular drifts with complete control in a car equipped with a SACHS clutch.
Buckle your seatbelt and brace yourself for a spectacular ride…
LAW Creative is a one-stop shop for film, from the initial conceptual and storyboarding stage, through filming, post-production and beyond. For films that bring your brand to life, contact keith.sammels@lawcreative.co.uk.
Below: A series of behind-the-scenes images from the shoot