The big ecommerce battle: Google shopping vs. Amazon advertising
by

Two of the world's most powerful online brands are battling it out – and nothing gets people going like a good rivalry. But how long can Google reign supreme?
Earlier this year, Sir Martin Sorrell commented at Advertising Week Europe that he expects Amazon's advertising business to grow to be worth $100 billion. That's an incredible prediction and, if proven correct, a lot of that will be thanks to brands capitalising on shopping search.
If you think about online shopping, you can be forgiven if the name "Amazon" comes to mind instead of Google. And you're certainly not alone. However, the search giant wants to change that, announcing two big changes coming to Google Shopping this year:
• A bigger and better Google shopping experience
• The expansion of showcase shopping ads
At LAW Creative, we have been discussing why the popular search engine has been losing some shine as the go-to platform for product search.
Google vs. Amazon: setting the scene
For a few years now, Amazon has taken over Google as the starting point for product search, with studies showing that it holds 56% of UK market share. To put it simply, if a brand isn't actively engaged in organic and paid search activity on Amazon, then you could potentially be missing out on more than half of possible ecommerce sales.
So, why is Amazon now getting ahead of Google in product search? Well let's have a look at their mission statements.
Google's mission statement is to "organise the world's information and make it universally accessible and useful" whereas Amazon's is "to be Earth's most customer-centric company; to build a place where people can come to find and discover anything they might want to buy online."
Whilst Google is focused on providing answers to everything, Amazon is focused entirely on being the exclusive one-stop shop for everything.
With that, Amazon has made it quicker and easier for consumers to get exactly what they want through its simple user experience and navigation, variety and selection, price, predictable payment and delivery process.
War In SERPS?
Based upon their mission statements, it seems that Google and Amazon are looking to achieve subtly different things with their search results.
Google's aim is to give users the most relevant result so that they keep coming back to use their search engine. Amazon meanwhile, is trying to maximise their sales – so therefore if they deliver great products at great prices in its search results, users will convert and then return to buy more products. Simple.
Why are retailers turning to Amazon?
Advertisers are shifting more and more of their media budget towards Amazon advertising, driving the company's ad sales through the roof in the process. In Q1 of 2019, their advertising revenue spiked to nearly $3 billion (around £2.5 billion) but Amazon still has some way to go before matching Google's advertising revenues.
Paid search and online video marketing (majority through Google and YouTube) make up the largest share of digital ad spend. Google's advantage is that it provides retailers and brands with advertising opportunities across every touchpoint of the customer journey, from discovery right through to the product sale.
Amazon's advantage on the other hand, is in product search where its direct-to-customer ecommerce model makes it easy for brands to attribute immediate ROI.
Additionally, whilst Google is bound to provide its users with relevancy in SERPS, the captive demand for products on Amazon means it can be less restrictive with the ways in which it allows brands to advertise.
A good example to look at is how Google has always restricted the extent to which brands could bid on their competitor brand terms and heavily factors content relevancy into their bid auction, whereas on Amazon, brands are completely free to bid on their competitor brand terms, and product page relevancy plays a much smaller role in ad position, making the marketplace more of a free-for-all for brands.
So how does Google respond to Amazon? Answer: By improving Google Shopping and delivering better value to their ecommerce advertisers. Let's take a look at some of their recent announcements.
Google response #1: A bigger, better google shopping experience
As mentioned earlier, the comprehensiveness of Amazon makes it appealing to advertisers. Online shopping requires much consideration before making that all important purchase decision, such as:
• Brand – Who's out there selling the product I'm actually looking for?
• Prices – How much can I expect to pay? What brands offer the cheapest prices? Is there a promotion or discount code that I can use?
• Locations – Can I buy this in-store somewhere local to me?
• Features – Which option best meets my needs? Are there any additional unique features that other brands are not offering?
• Reviews – What are other customers saying about this product?
• Delivery – How long do I have to wait to receive my item? What is the cost associated with delivery?
The less work required to find this information, the better the customer experience. Amazon has proven this and Google has taken note and their new Google shopping experience proves that they are keen to keep up with their opposition.
Easily find and purchase the most relevant products with Google Express
Note: This functionality is not yet available in the UK.
Rolling out this year, the new shopping experience on Google Express enables users to browse millions of products and find all the information they need to make informed purchase decisions.
For example, if a user searches for a product like 'horse riding boots' they'll be able to filter out the results according to their personal needs and preferences. Whether they're looking for a specific brand, colour, size, feature, price or any other attribute, Google will deliver them the most relevant results.
Once the shopper has found the product they're after, they'll have their pick of buying options either to purchase straight from the seller's website, from a nearby physical store or in some cases directly through Google within the shopping interface.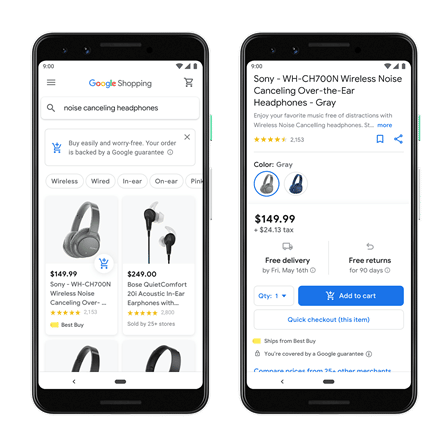 Shoppers will also have a personalised homepage on the shopping tab where they can filter based on features they care about and brands they love, read reviews and even watch videos about the products.
Some items will also include a blue shopping cart button that, when clicked, will allow the customer to add the item to a universal cart where the purchase is backed by a Google guarantee, plus customer service and easy returns.
The main advantage of this new Google shopping experience is that it enables retailers with a physical store to drive additional foot traffic to local stores. So, whilst Amazon may be winning the race for online sales, Google is a great way to increase sales both online and offline.
Google response #2: The expansion of showcase shopping ads
Initially launched back in 2016, the motivation behind the introduction of showcase shopping ads was to inspire consumers with relevant content when they're in the mood for discovery. In other words, Google doesn't want to simply create another marketplace; instead they're aiming to take over and "own the whole funnel".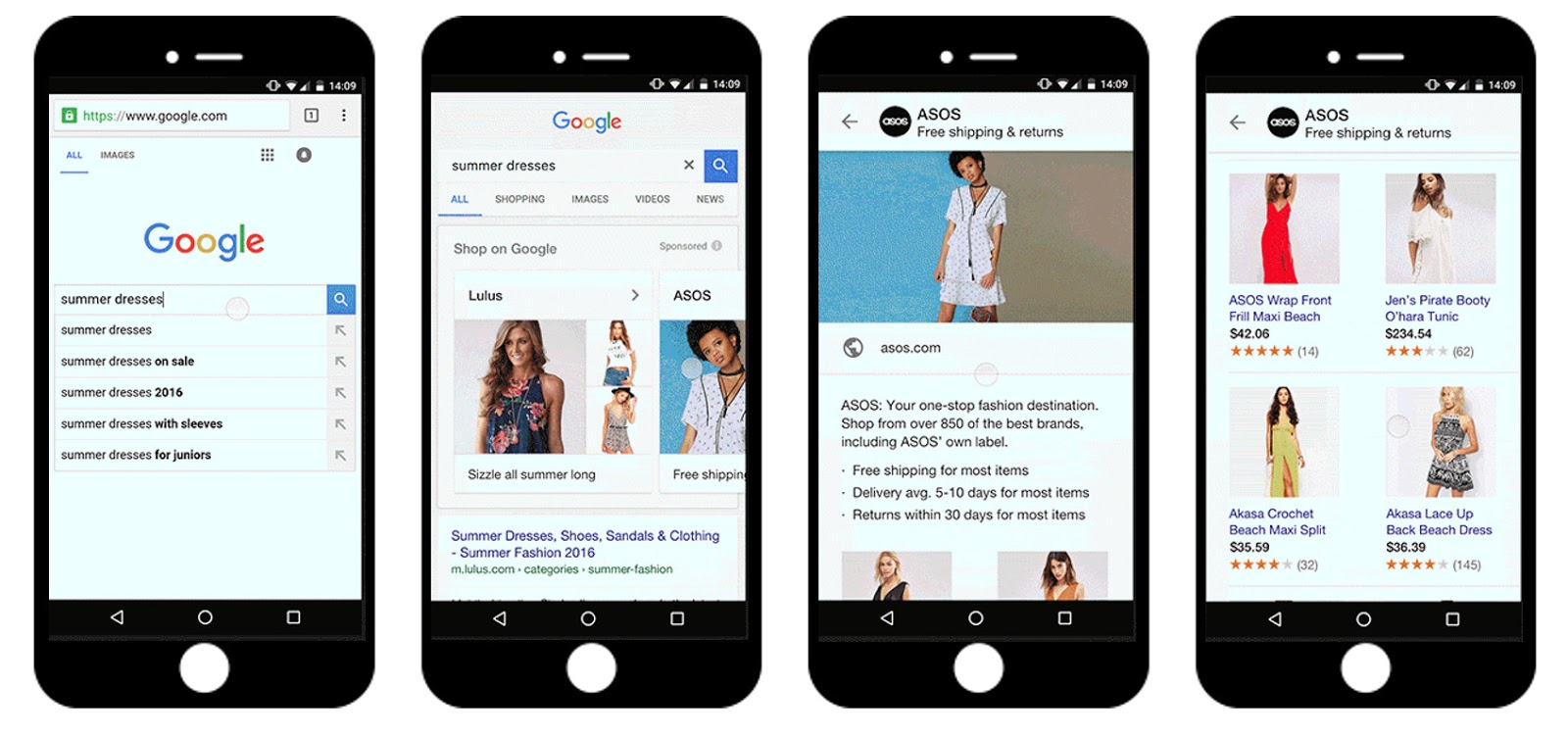 This type of ad format is a great way or capturing new users right at the very top of the funnel, typically using a very broad product search term, to invite them to browse a collection of other relevant products.
What can we expect to see from Amazon next?
The current battleground now lies within the smart speaker space. Amazon's choice of weapon is the Echo, with Google choosing to go to war with the Google Home.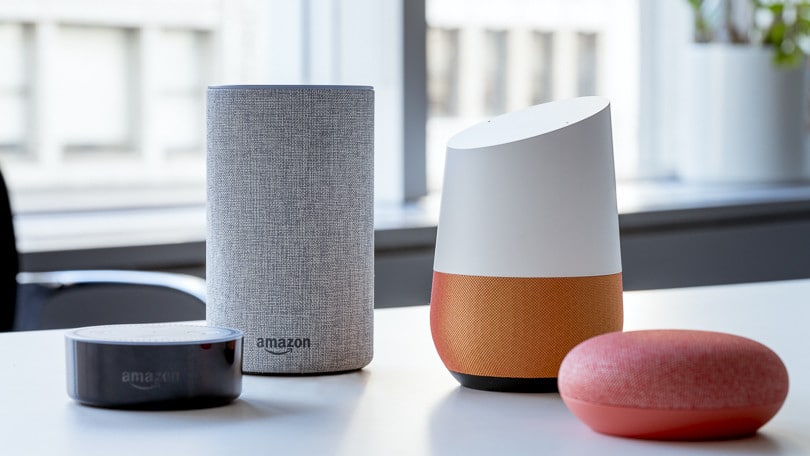 In the UK alone, 9.5 million people used a smart speaker in 2018, up by 98.6% from 2017 and the rise of voice search was, and still is, a hot topic in search marketing. The Echo is currently dominating the smart speaker market ahead of the Home.
This was an interesting move from Amazon as they are more than aware that their strength does not lie in product discovery. Therefore, to encroach on Google's dominance, the Amazon Echo further opens up areas of search beyond its current search disposition.
As of yet neither Echo or Home offers advertising opportunities. However, it will be something to keep an eye on as the smart speaker market grows and becomes more commonplace.
The search landscape is changing quicker than any of us could have predicted. Long gone are the days when the traditional Google search engine was the one-stop shop for search, with consumers now split between different search platforms for different tasks. Google might still reign king, but they must be wary of Amazon's moves to dominate beyond product search alone.
If you're interested in setting up showcase shopping ads, or any other aspect of smart search, our retail and ecommerce PPC specialists can help. To find out more, contact brett.sammels@lawcreative.co.uk.