Coronavirus: revised marketing strategy is all in the mix.
by

The temptation to stop all marketing in these uncertain times is overwhelming: the world is grinding to a halt, customers have stopped buying and the business looks like all overhead and no income.
But think for a moment. How long has it taken you to build sales, leads and a salient brand and how much money, in total, have you spent on that? Decay for brand awareness sets in fast – faster, in fact than it takes to build by a long measure. And you could be restricting tactical sales right when you need them the most.
So now is a good time to take stock and re-evaluate your strategy to make sure that your efforts are focused on the correct mix of brand building and tactical marketing initiatives. Here at LAW we are currently changing and devising strategies to reflect the 'new reality' for a number of key clients.
The chart shows the relevant benefits of both strategic and brand building marketing. Strategic messaging protects your brand in the long term, but tactical initiatives could keep your business going in the short term. Brand building messaging is focused on creating brand equity which will be important in the future. Tactical sales messaging keeps you current in terms of your available offer and will protect sales and leads right now.
Where you position the mixer on the chart below of course depends on your individual business and its needs to get through the next tough few months. If you have open channels of distribution – say an FMCG brand in a supermarket – then it is likely that you will keep your balance of strategic vs. tactical much as it has always been.
However, if you are restricted in terms of distribution, consider what kind of business you think you could shift online to generate revenue. You might want to be far more tactical right now at the expense of the longer-term effects of brand building. With the crisis causing an expected potential brand equity decay time of perhaps two or three months, your brand and business will be able to withstand this shift of strategic emphasis.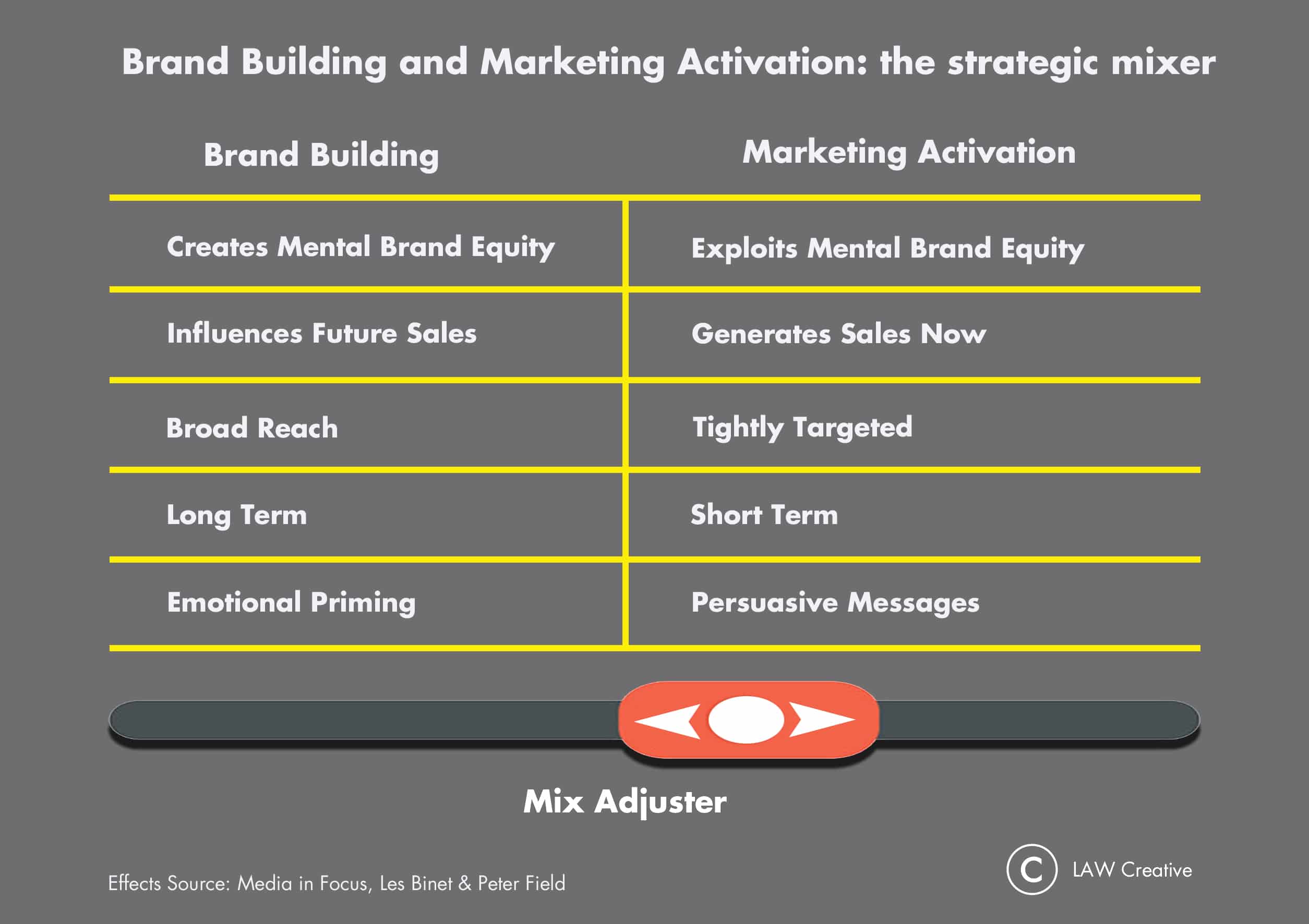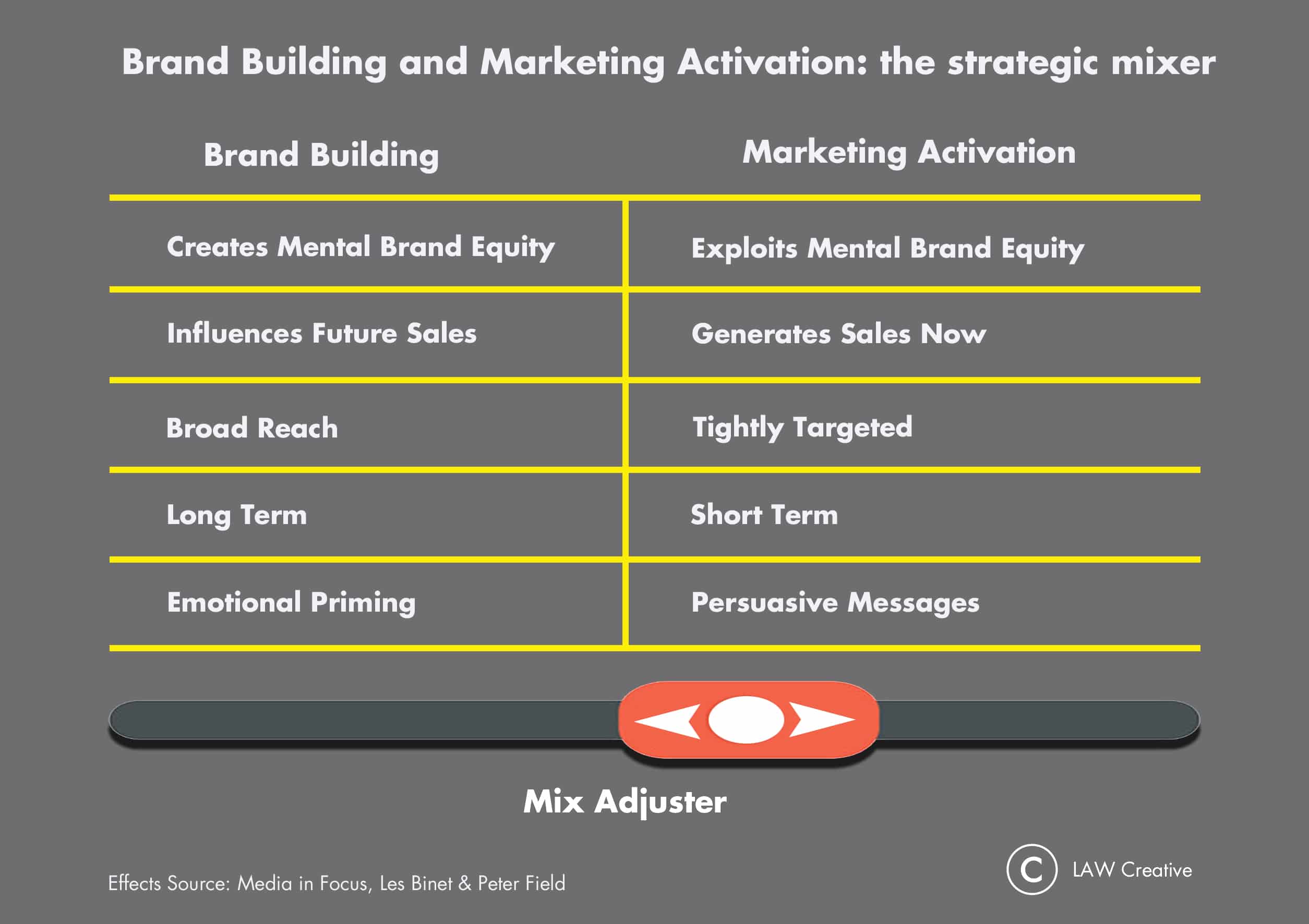 When things return to normal, the mix can change again. The key thing is that you are cognisant of the current market and customer needs and keep this under tight review. It may be that after the crisis, you will need to focus a bit more on re-establishing brand empathy. This intangible business asset has increased amongst the world's top brands by 226% between 2006 and 2018 (Millward Brown).
Brand Value, however, is not an intangible like brand messaging. Market capitalisation by industry sector shows higher than average equity positions through on-balance sheet figures for food and beverage, healthcare and automotive sectors, amongst others. (Jonathan Knowles, Type 2 Consulting).
Emotional campaigns' effects last longer than rational ones and so build more strongly over time: this is especially true of profitability, because of the multiplier effects of emotional campaigns, on both volume and pricing, when you get back to spending money on rationale activation again.
But that might be for the future, depending on your circumstances. Whatever is right for you now, one thing is clear.
There is an old adage that says, "When times are good you should advertise. When times are bad you must advertise." Why?
The "noise level" in a brand's product category can drop when competitors cut back on their ad spend.
Brands can project to consumers the image of corporate stability during challenging times.
The cost of advertising drops during recessions. The lower rates create a "buyer's market" for brands. This is true of both tactical and brand based activities.
When marketers cut back on any marketing spending, the brand loses its "share of mind" with consumers, with the potential of losing current – and possibly future – sales. An increase in "share of voice" typically leads to an increase in "share of market." An increase in market share results, with an increase in profits. (Forbes).
So, at any cost, keep your marketing efforts alive. It'll pay back massively when things get better, as they will.
It might be hard right now, but bite the bullet. It might be a silver one.
LAW Creative is a Drum recommended Indie Agency with numerous and recent case histories illustrating successful marketing campaigns based on smart thinking, great creative and intelligent integration. For more information please contact brett.sammels@lawcreative.co.uk or keith.sammels@lawcreative.co.uk.