DRIVING BUSINESS GROWTH THROUGH ABM
by

The world continues to change. Business continues to evolve. The old ways of doing things are no longer necessarily the right ways. For businesses to not only survive but thrive, they need to think differently. In short, they need to utilise every single weapon in their marketing arsenal. They need ABM. 
The right tool at the right time 
ABM (Account Based Marketing) is an essential tool for businesses looking to understand their market and drive growth. Focusing on building relationships with key accounts as well as personalising marketing campaigns and understanding the challenges in the sector, ABM is your point of difference in an ever-changing, super-competitive landscape. Messaging: personalised. Audience: prioritised. ROI: optimised. It's a game changer for a changing marketplace. 
Understand the market, target your marketing 
It's not rocket science. More effective campaigns have always come from truly understanding the audience you are talking to (and talking to the right people in the first place). With ABM, you delve even deeper. 
To create an effective ABM strategy, businesses need to spend time gaining an in-depth understanding of the industry and the key accounts that operate within it – allowing you to identify exactly where efforts should be focused and hone in on key decision makers at the same time. From this, you are able to understand exactly which accounts are the most relevant and where efforts should be targeted. Through researching current trends, analysing customer data and talking to industry experts, you can also: 
Inform and align marketing and sales decisions 
Enhance the way in which you position your products and services 
No more sales and marketing teams working in silos or being disconnected. Rather, this in-depth research allows both departments to work closely and align towards a commonly shared goal. It's a crucial building block between two of your most important departments… which can contribute to increased ROI as a result. 
Personalised approach, optimised ROI 
By taking the time to understand the key challenges that target accounts face, businesses can create custom campaigns that address these issues and establish strong relationships at the same time. This could include: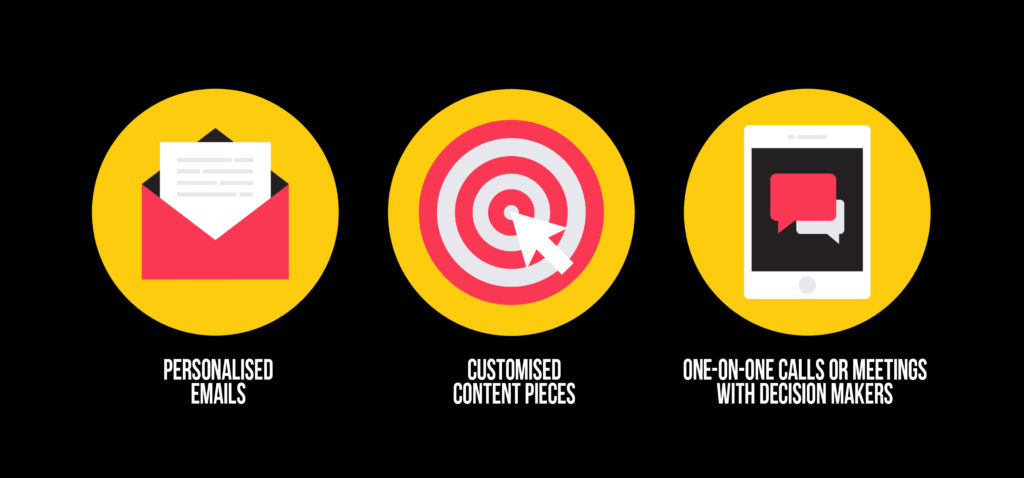 It's this kind of highly personalised approach that can improve engagement with key accounts, through the ability to place individual ads and other account-specific messaging… thus encouraging these high value customers to spend time with you and your digital content. This in turn builds trust and credibility, which can help increase the deal size from each opportunity and lead to longer lasting and more profitable relationships. 
But the benefits don't end there. ABM also helps businesses optimise their marketing processes by providing insights into which campaigns are working and which aren't. It also helps businesses better understand how engaged different accounts are with their brand, which can inform future targeting strategies as well. 
Seize the moment. Reap the rewards 
Even in these changing times, one thing remains constant: to harness ROI on your marketing spend and drive your business' growth. That's where thinking differently comes into its own. And that's why you should think about ABM. 
And you should hurry. ABM is the fastest growing discipline within B2B marketing. Some statistics to consider…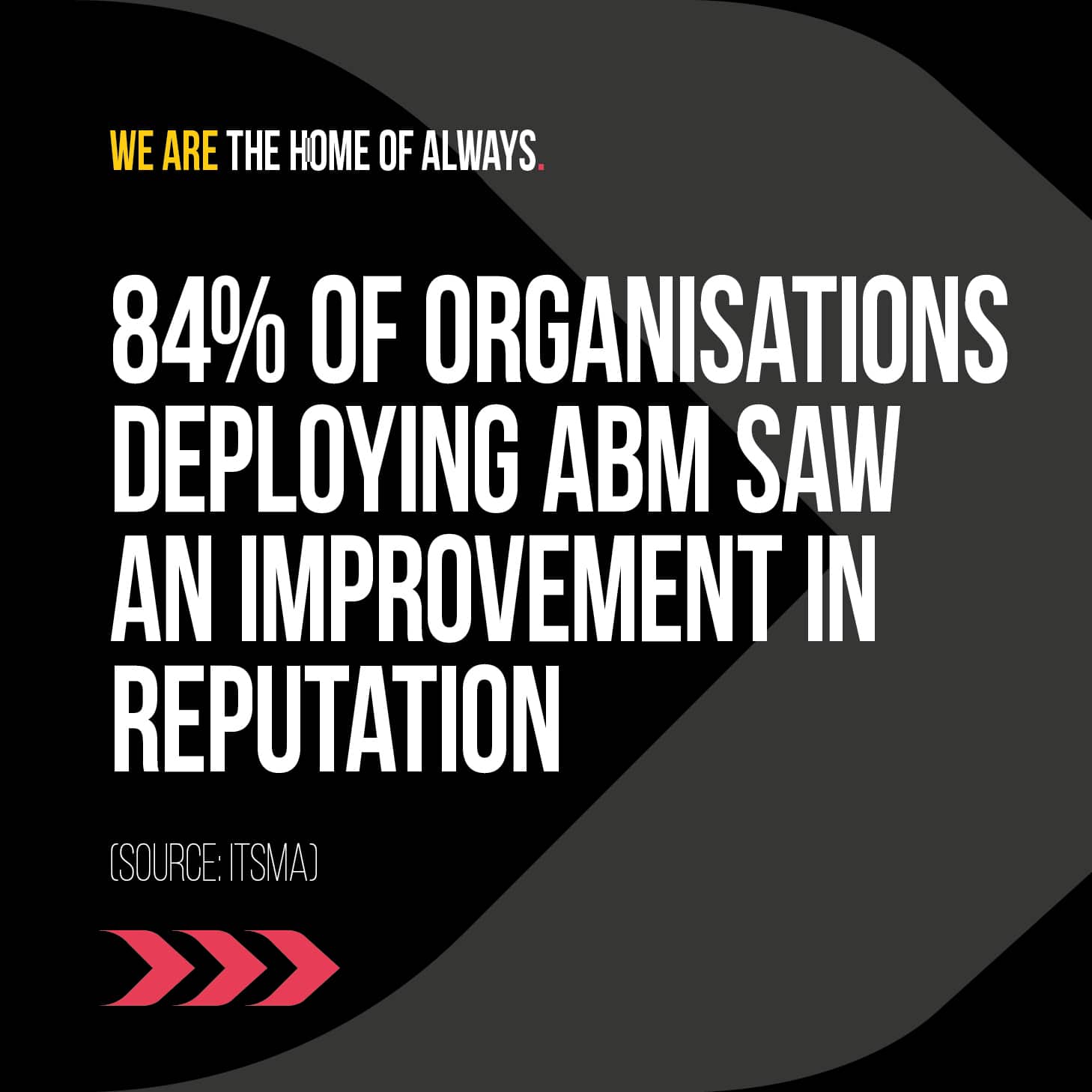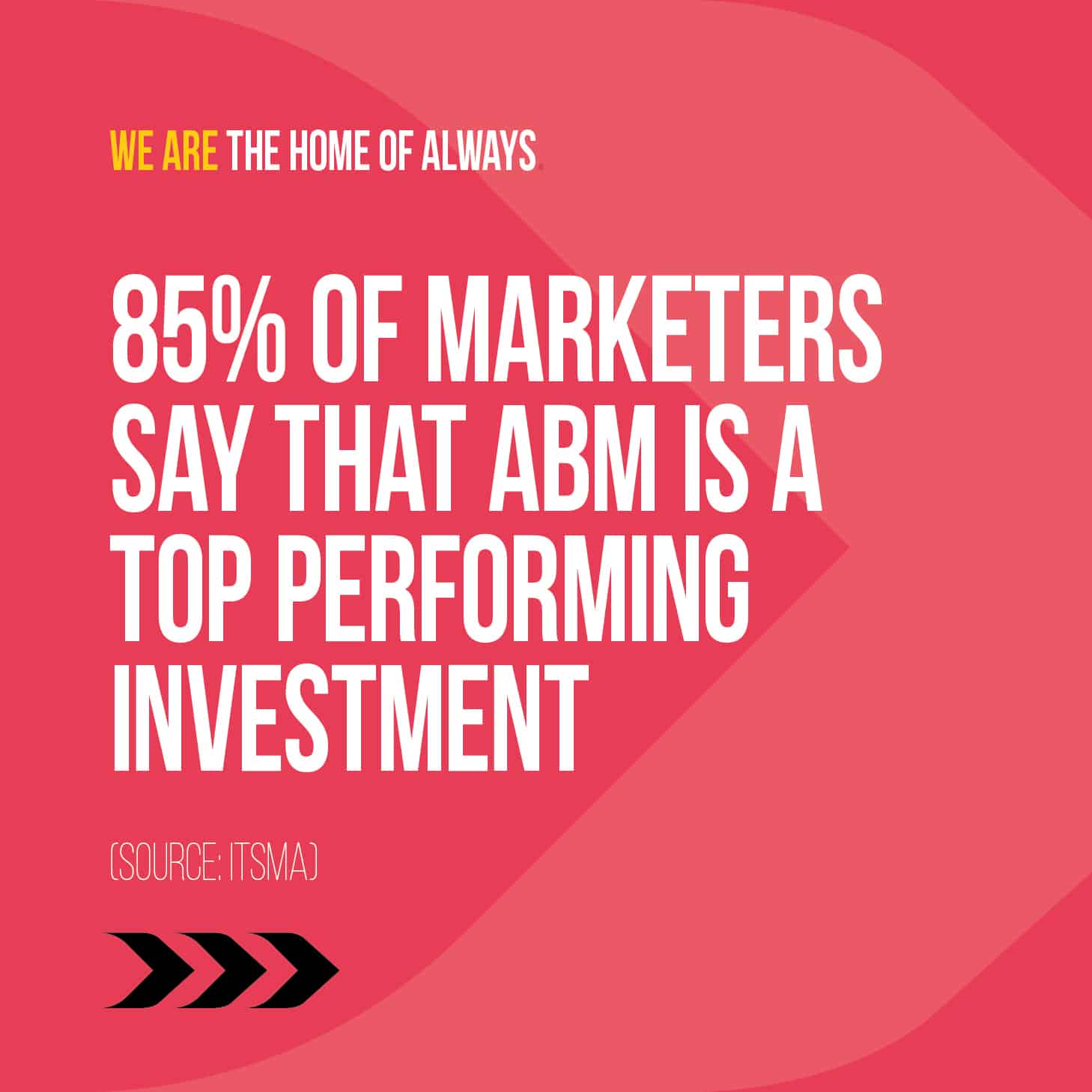 The opportunity is there for those with the foresight to seize it. 
By understanding your target market and focusing efforts on the right accounts, you can save money while creating stronger relationships with key decision makers in order to secure larger deals down the line – all of which contribute towards increased ROI in the long run. 
Always differently thinking 
The home of ABM? LAW Creative: the home of always on. Always curious. Always relentless. Always learning and striving to accelerate our clients' ambitions. In these challenging times, we offer smart, agile, cost-effective, full-service solutions to meet any brief. Utilising outside the box thinking like ABM, we will elevate your brand and help you achieve your goals. 
Want to find out more about how ABM could help drive your business forward? Get in touch with Morten Kornerup or Josh Kichenside today. It could be the best business decision you make all year.