As an avid fitness fanatic, spending most of my spare time in the gym, the fitness industry is something I find myself very close to. I've noticed that, in recent years, the fitness industry has made some serious gains, and the fitness subculture has grown fanatically.
One significant contributing factor that has helped push this industry to new heights is Instagram. Health, Fitness and Nutrition are among the biggest trends on the photo-sharing app, and show no signs of slowing down anytime soon.
The best gym businesses have realised this and ensured that they provide a nutritious diet of great content via Instagram. With personal trainers, classes, swimming pools and so on, going to the gym offers so much more than you can access by following a fitness regime on your own, and by adding Instagram to the offer, gyms can deliver even more.
Instagram is filled with daily workouts, data on nutrition and supplements, pictures of body transformations and low-fat meals… and with over 500 million active members on Instagram each month, it's not hard to see why the fitness industry is growing so rapidly. You have to be careful, as there are many fake accounts and untrained advisers, as well as manipulated photos, which is why many users prefer to trust Instagram accounts run by major gym operators, but overall the communities available via the app are there to encourage, empower and educate others.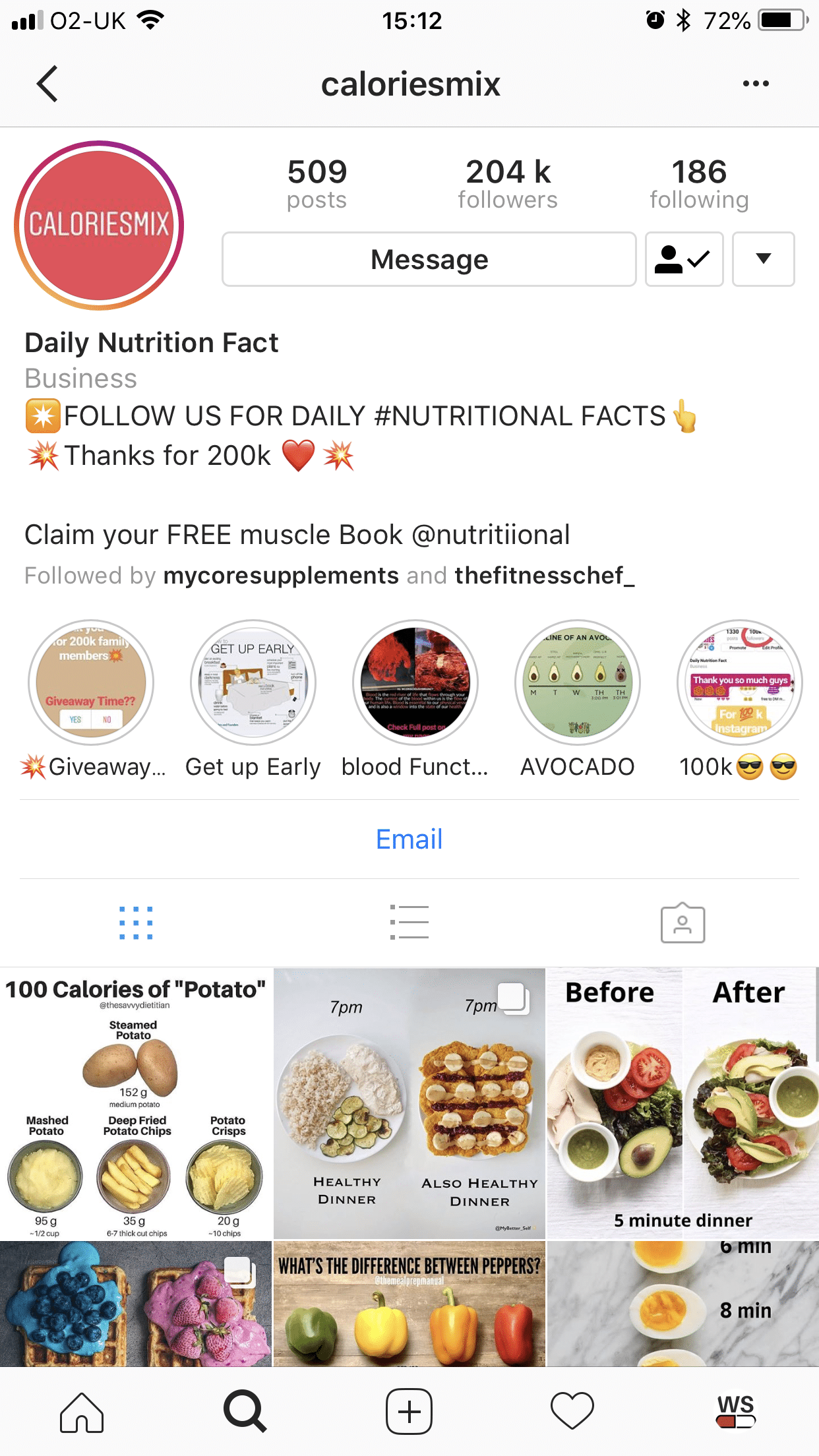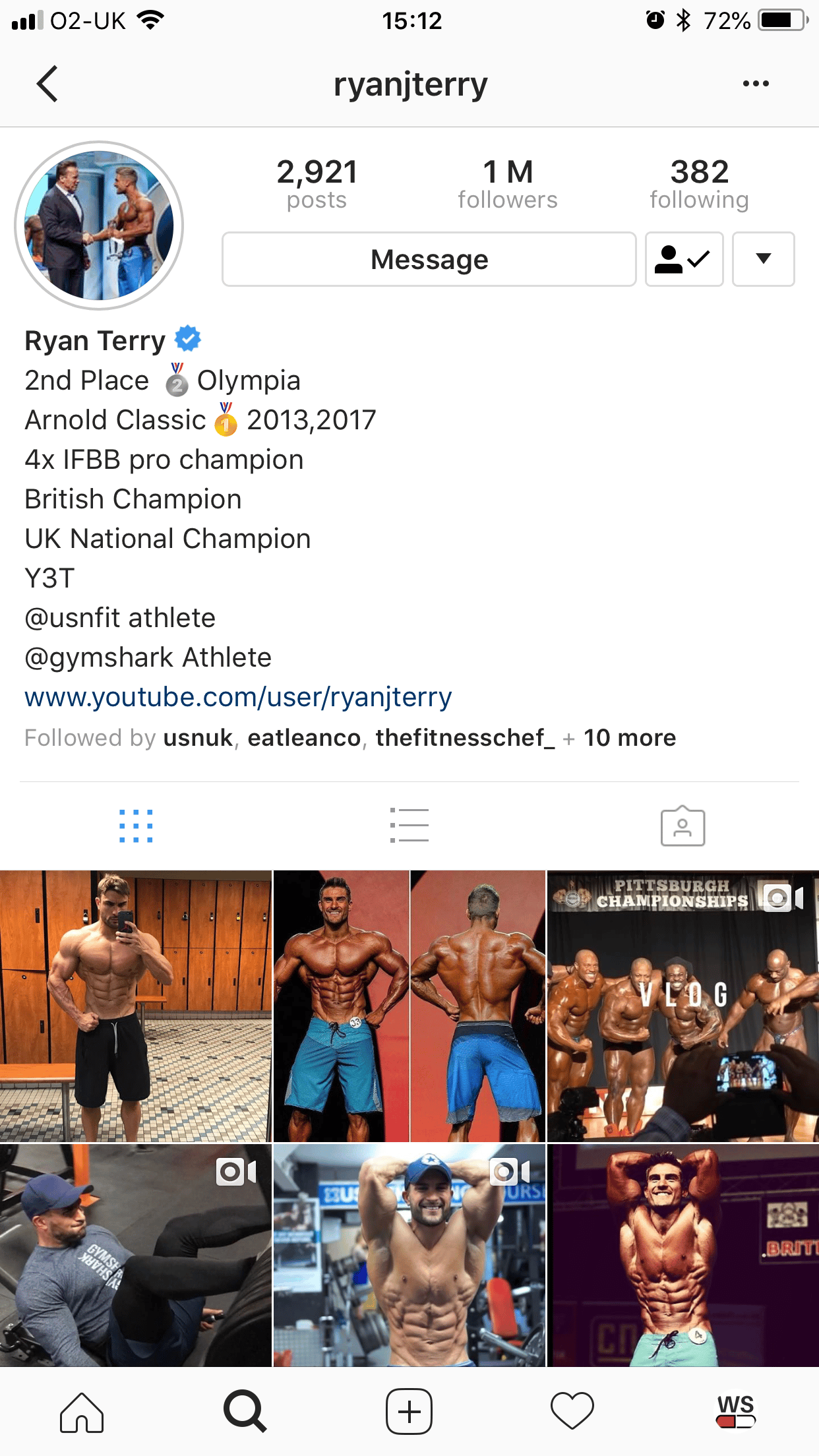 Just some of the stats and shots at the fingertips of fitness fanatics on Instagram.
If you take the two Instagram accounts above, you can see clearly see there is a huge audience to be reached. Caloriesmix, a nutritional facts page, has 200k followers and Ryan Terry, an international fitness icon and IFBB (International Federation of Bodybuilding and Fitness) Pro Men's Physique champion, has 1m followers. The key to the success of both of the pages is the content that they are sharing. From useful diets of daily facts to eye-popping images that can inspire and/or amaze, content truly is king in the realm of the app. Create strong, topical and well-informed content that will encourage, empower and educate others, and you too can have a body of followers like these.
As the number of gym locations passes the 7,000 mark, the UK fitness market is now estimated to be worth £5bn and the huge numbers of people engaging with fitness on Instagram can only be driving this forward.
These figures, included in the 2018 State of the UK Fitness Industry Report, highlight the market's continued growth, driven by more operators and more members than ever before. According to the report, the market penetration rate is at almost 15 per cent, with one in every seven Brits now having a gym membership. The gym sector is clearly in good health, and by offering strong Instagram content it can offer even more to its growing customer base.
As a multi-award-winning integrated marketing communications agency – whose offer includes a wealth of expertise in leisure, health and fitness communications – we believe in keeping ourselves and our partners fit for business.
For information on how your business could benefit by partnering with LAW Creative please contact brett.sammels@lawcreative.co.uk or keith.sammels@lawcreative.co.uk