ICONIC VEHICLE DESIGN – THE VESPA
by

Iconic design
Iconic design is found in all walks of life and nowhere is this truer than in the world of automotive. During a recent family vacation to Tuscany, Italy, we visited the Piaggio Museum in Pontedera.
The museum's main attraction is its Vespa Collection. It was inspiring to learn about Piaggio's rich history and successes such as its world-famous prototype of the Vespa, designed by Corradino d'Ascanio in the 1940s.
Looking at the display of over 140 scooters – including sporting models and fashion icons – it wasn't difficult to understand why the Vespa brand is iconic, and watching the enthusiasts in the museum you could feel the inspiration. The museum features exciting pieces such as the first 98cc series launched in 1946 and the 1951 Vespa 125cc used by Audrey Hepburn and Gregory Peck on the set of Roman Holiday. There is also much to see for the serious collector (the Vespa 'U'), for Italian traditionalists (Vespino) and for sportier types (Super Sprint).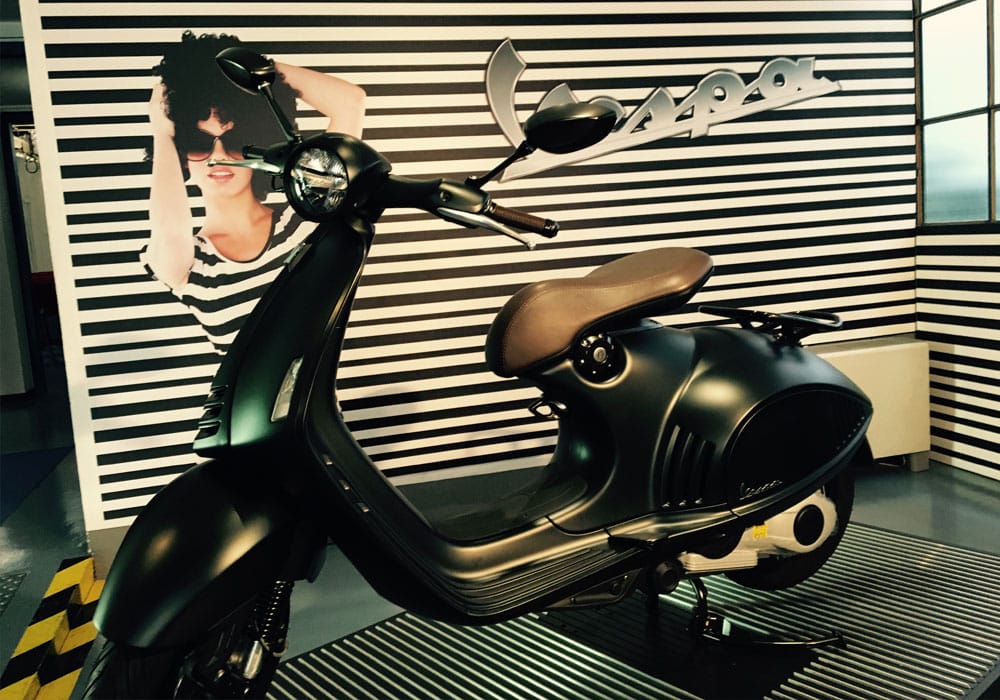 A special version of the Vespa 946 designed by Emporio Armani
Being interested in 'all things design', I was particularly taken with the 'artistic collection', an exhibit featuring innovative pieces such as the Vespa Dalì, a unique, elongated Vespa PX on which two students from Madrid travelled the world – now an authentic piece of art itself. The exhibition extends to the silver screen, too, and it is interesting to note that Vespa's appearance in the movies has contributed to its worldwide iconic stature, having starred in titles such as La Dolce Vita (1960), Quadrophenia (1979) and Sydney Pollack's The Interpreter (2005). There's even a movie-themed vehicle created especially for the exhibition itself, 'The Vespa and the Movies'.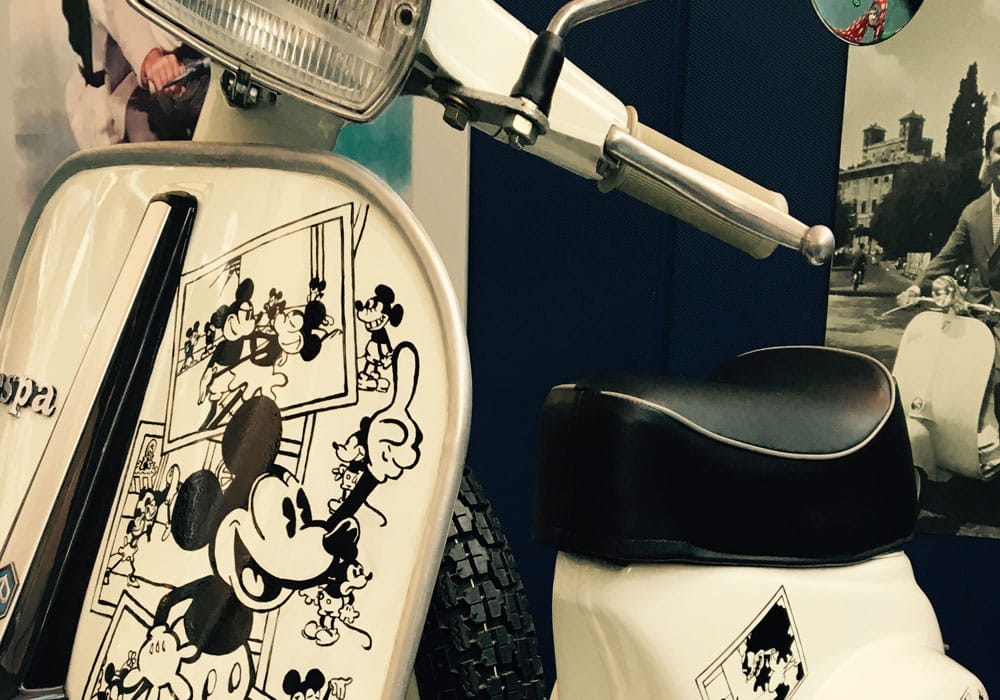 A Vespa 50 special, hand painted with Mickey Mouse cartoons
Automotive technology
Ours is a time of great change in vehicle technology and design advancement (connected cars, electric vehicles, autonomous driving), and as a cutting-edge lead marketing agency for global automotive brands such as ZF, SACHS, TRW, LEMFÖRDER and Lucas, we bear witness to many innovations and automotive design trends.
The brands that continue to flourish do so by continuous innovation, future-proofing themselves to macro trends and staying relevant during times of fierce competition. I found this to be true for Vespa, too. From its first incarnations in 1943, with Corradino d'Ascanio's radicalisation of the founder model Paperino, through to modern day models, Vespa has continually evolved, building on its unique heritage to stay desirable, iconic and, perhaps, above all, relevant. A good example of this was its celebration of Armani's 40th anniversary and Piaggio's 130th birthday in 2015.  Emporio Armani designed a special version of the Vespa 946, combining the stylistic shapes of the vehicle with the subtle colour palette of the fashion-brand. The metal parts have a satin finish with the words 'Emporio Armani' appearing on the side, while the iconic eagle logo of the brand sits above the headlight. But the showpiece is as much about technology as it is design. Its aluminium cylinder blocks and electronic riding controls complement the innovative four-stroke electronic injection engine, making the two-wheeler an ideal choice for city riding. The 220mm double disc brake, two-channel ABS braking system and large 12-inch wheels guarantee maximum safety on the road, serving as a reminder that technology and design must go hand-in-hand for the automotive industry, as it does in the most successful marketing. We even have an original Vespa here in our reception area at LAW Creative as a symbol of iconic design.
Automotive marketing
At LAW Creative we devise multi-faceted, fully-integrated global campaigns for our automotive clients. We ensure they integrate all aspects of an automotive brand's offer, incorporating design, technology and safety. Just as Vespa's successful showpieces are keeping the brand alive and desirable, we create inspiring advertising to generate interest, gain business and incite action.
We have recently launched a successful pan-European campaign for Lucas based on its iconic heritage reaching in excess of 38 million targeted profiles, as well as an award-winning global campaign for TRW with a series of films watched by over 6 million viewers. We are now in the process of launching a fully-integrated global campaign for SACHS, encompassing its motorsport heritage.
https://www.lawcreative.co.uk/work/trw/
For fully integrated marketing solutions at LAW Creative please contact josh.kichenside@lawcreative.co.uk