IT'S ALL IN THE DETAILS
by

As something of an addict when it comes to all things motorsport, I recently paid a visit to Mercedes-Benz World in Surrey. The whole experience was truly fascinating, but of particular interest was an exhibit entitled 'View Suspended II: An Artwork'.
Comprising over 3,200 precision-engineered components, this spectacular display (created by Dutch artist Paul Veroude) dramatically deconstructed a Formula One car's racing chassis in incredible detail.
When we see these marvels of modern engineering tearing round a race track, it can be easy to forget what goes into making them work, and how much of a work of art they really are.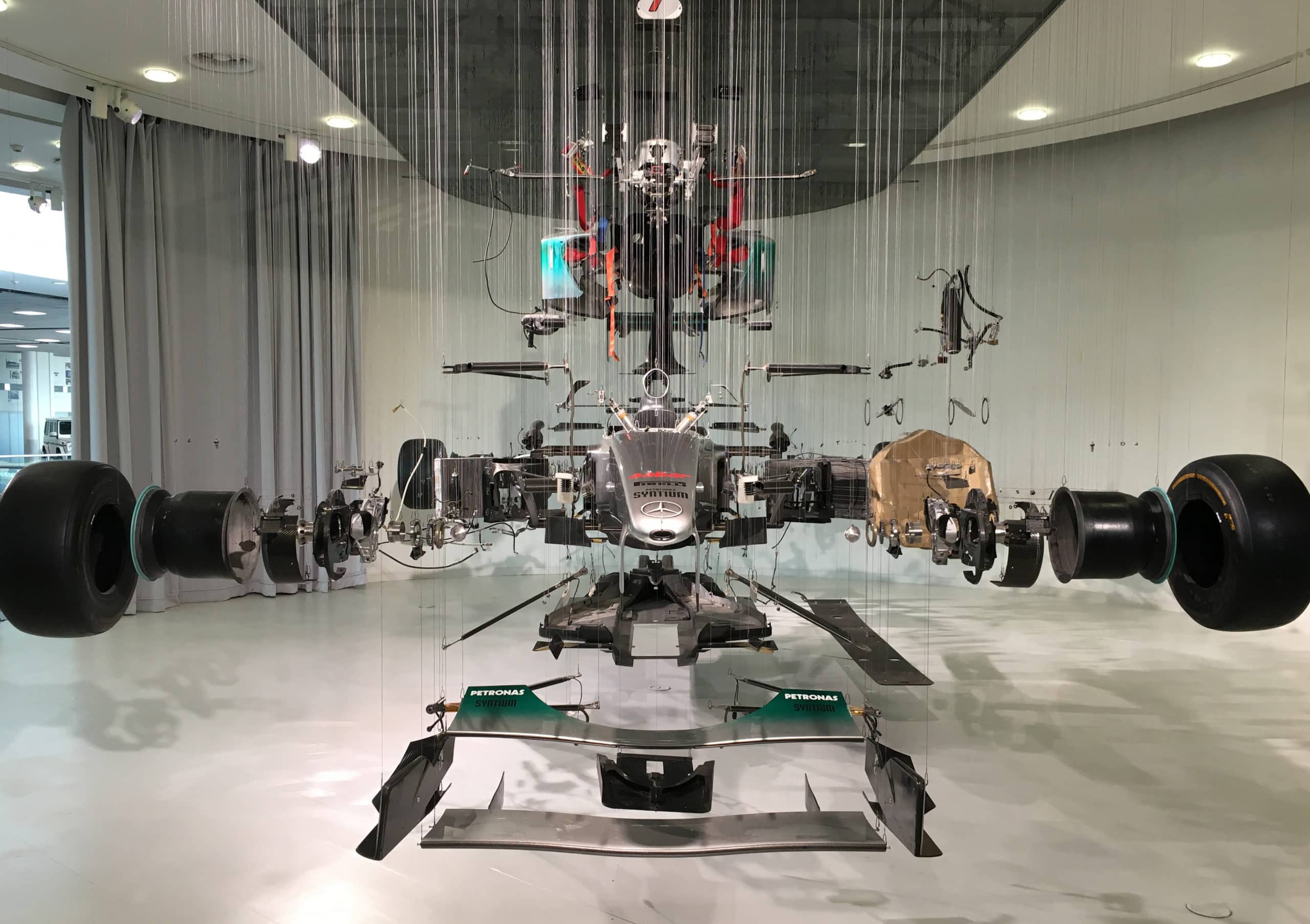 View Suspended II: An Artwork kind of straddles the line between machinery and masterpiece, form and function, showing the sheer amount of work that goes into not only building an F1 car and keeping it on the road but actually making it ultra-competitive too.
What we're talking about: over 90,000 man-hours of design time and more than 200,000 man hours of manufacturing. We're talking about the perfect combination of titanium, aluminium and magnesium. A flawless piece of engineering that weighs not much more than 600kgs and of which 85% is constructed from carbon fibre.
I will still marvel at the speed, noise and power of the whole spectacle, but next time I tune into the British Grand Prix at Silverstone or the Italian Grand Prix from Monza I'll have a greater appreciation of the intricacies and minutiae of what makes a Formula One car such an amazing piece of design engineering. And I'll know a little bit more about all the small details that make such a big difference between success and failure.
With many years' experience working with some of the world's leading automotive brands, LAW Creative knows more than most about perfecting the finer details when it comes to producing award-winning work. To find out more, contact keith.sammels@lawcreative.co.uk or brett.sammels@lawcreative.co.uk