LAW and the 147 year old brief
by

Lucas is a giant of a brand, famous for the global supply of quality parts in highly distinctive green boxes.
Lucas goes back over 147 years to the days when it made bicycle parts, all the way through the birth of the modern car and the parts that car makers used on their production lines a century or more ago.
The British classic car and motorcycle market is international and restorers and workshops who are responsible for keeping valuable classics running as though new are very choosy about the parts that they use.
Until the end of 2019, sourcing genuine Lucas parts for classics was difficult, and the parts often spurious in counterfeited red and black packs.
Hence the rebirth of the Lucas Authentic Classic brand, made to top quality Lucas standards and guaranteed to match the original bolt for bolt.
LAW took the century plus C.I. of the original brand and sympathetically modernised it for Lucas, featuring the original symbol of the 'Lion and Flambeau' and then developed packaging, print and digital advertising, a new website and designed the launch stand at the Classic Car Show at Birmingham's NEC
The results have been outstanding, with impressive take-up of the components, which have been welcomed back into the market from the Far East, Europe and North America.
'Modern Lucas' is a LAW client which we are very proud of. And we are equally proud to have played our part in bringing Lucas Classic back to life to a whole new market where it has been much appreciated. You can find out more about Lucas at lucasautomotive.com and, for the classic range, at lucasclassic.com.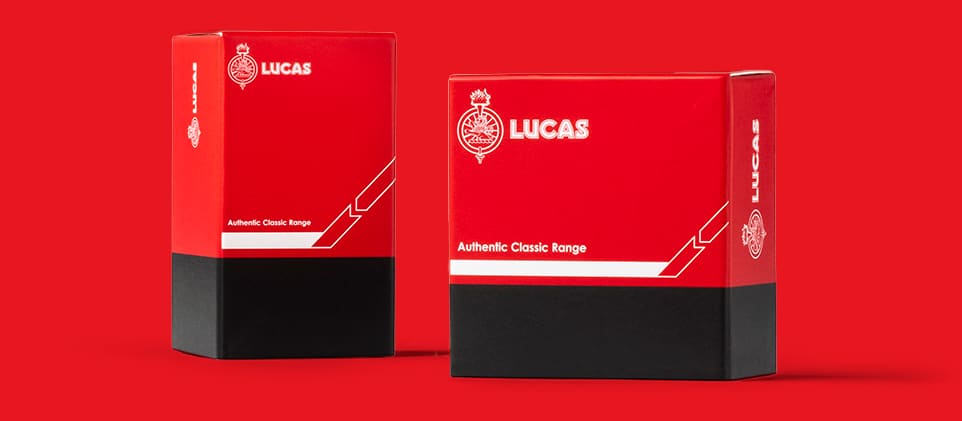 Whether it is breathing new life back into old brands, inventing new ones or simply maximising the ROI of your existing brand and business, we're here to help, as always.
Create your own history. Please contact brett.sammels@lawcreative.co.uk or keith.sammels@lawcreative.co.uk.
LAW Creative is an award-winning indie agency offering Smart Thinking for strategy, creative, technology, data, film and social media marketing. LAW Creative could be the best decision you've ever made.
Header image: Beautiful Classics. LUCAS Authentic Classic Range. Jaguar E-Type & XK150.