'Let's meet on-line for a glass of Prosecco, darling'…
by

… which, of course, you can't. Just like you can't get a spa treatment online. Or enjoy your favourite food at a good restaurant.
What you can do online is shopping. Lots of it. Kitchenware, clothes, fashion accessories, jewellery, you name it, you can get it a bit cheaper than in a shop and all without the hassle of parking, trudging around in the rain or mixing with the general hoi polloi.
Now, imagine that you have a department store in central London. Probably 200,000 sq. ft. over 6 floors. Rent at about £1,000 per sq. ft. Maybe over 20,000 employed in the UK alone. You look round and see people trying on clothes that you know they're going to go away and buy online, but probably not from your website. But even if they do, they will spend less time in your store once they make the confident switch to buying online. The same is probably going on at maybe the other 200 other stores that you operate around the world.
You see footfall gradually decline. However, your department store overhead doesn't automatically shrink in line with your customer numbers. This is a problem. Profits begin to decline too, despite the fact that you're doing your best online with a good website, apps and all the other online aids you can think of.
Having already made the decision last year to focus less on fashion and more on food and gifts, Debenhams announced last week that they are going to revamp their stores to include a much more experiential offer. Prosecco bars, restaurants, spas, and so on. In other words, anything you can't buy online.
Debenhams is prompted to do this for the sake of the future of the business. Financially, it is weathering the storm better than most – in 2016 its UK figures showed a reduction for in-store spend (-1.3%) but an increase in its online sales of 1.7%. UK Click & Collect accounted for around a third of online orders, but overall profit before tax still fell by 6.4% to £87.8 million.
Contrast this performance with online fashion brand BooHoo, which has just reported a massive surge in sales to £300m. This is just a fraction of the gross transactional value sales of Debenhams at £2.9Bn, but for investors this is payback, big time. The share price of BooHoo has tripled in the past year, meaning that the business is now worth more than £2bn. To put that into context, Mike Ashley's Sports Direct – whose turnover is roughly the same as that of Debenhams – is worth £1.7Bn., and BooHoo is worth 3 times the value of Debenhams.
BooHoo launched in 2007. Debenhams history goes back to 1778.
Debenhams group says, "Leisure is increasing share of consumer spending. For Debenhams customers, the leisure experience is an important part of shopping and mobile interaction growing fast. There is an opportunity for Debenhams to lead in what we define as "Social Shopping".
The store is launching Meet me @Debenhams, new store environments where customers can spend time with family and friends, exploring new products and services, enjoying VIP access to in-store events and sampling an exciting food and drink offer. At the same time, around 2,000 store staff are shifting from back-of-house activities to customer-facing roles. Meeting real people is also experiential.
Most of this activity will be driven by mobile interface. Debenhams says, "…in order to deliver the capability to execute our Social Shopping strategy in full, we will move to a new mobile platform that will unify our channels and our interaction with customers''. Smartphone users now account for around 50% of Debenhams online traffic and have driven an overall online sales growth of 9.3%.
This is a great strategic move by Debenhams. Anyone not on this path will suffer badly. The eating out market in the UK is worth £87.1bn, almost three times the size of the clothing market, and is forecast to grow at around 10% by 2018.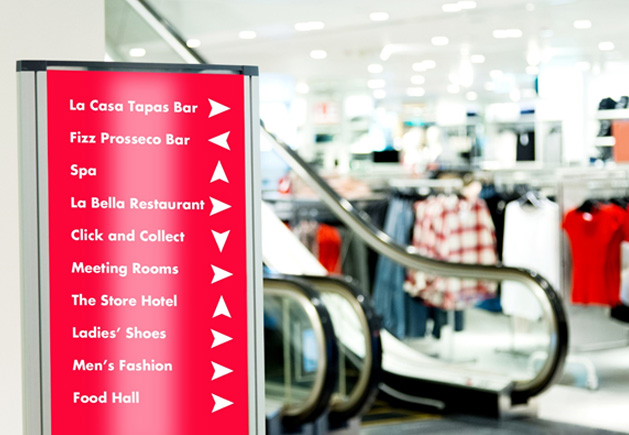 The Debenhams offer will feature new dining options; as well as introducing a further 15 Costa Coffee outlets, the store group has identified different opportunities for a variety of eating options with Patisserie Valerie and Franco Manca. There is also an exclusive pan-Asian cuisine offer, Chi Kitchen, in the Oxford Street store. By Christmas 2017, Debenhams will have approximately 50 new food offers.
The appointment of new CEO Sergio Bucher (from 17 October 2016) augers well for the future. Mr Bucher was previously Vice President, Amazon Fashion Europe, leading Amazon's growth to become one of the largest fashion retailers in Europe. Before that, he headed up e-commerce globally at Puma, and held senior roles at Nike. It's quite clear where Debenhams sees itself going.
The decline of the department store – or other big retail names – has actually been going on for quite a while. Casualties include Woolworths, Comet, BHS, Allders (which had been in Croydon for 150 years), Simpsons of Piccadilly, Barkers of Kensington, Derry and Toms, Dickens and Jones, Marshal and Snellgrove and many more regional offerings. Swan and Edgar, for example, was so popular back in the 70's that it even had its own underground entrance direct from Piccadilly tube station.
The ones left that still make profits from customers who visit are doing so at the expense of all the ones that have closed. The customers that enjoy the in-store environment are now spread around less choice, which is propping things up for a while. The future is more secure for 'destination' department stores such as Harrods and Selfridges, where overseas visitors are enjoying a different kind of experiential treat – just being there.
Now, we have no doubt that stores will eventually be forced to go down the experiential route whether they like it or not.  But all are great retailers. They have been doing it for generations, know their customers and many have reasonable online presences designed to counter the effect of the internet. But that still means that the physical building will gradually decrease in visitor numbers, even though online sales may prop up the balance sheet for a while. And that space is wasted and loses money unless put to a different use.
And, however you dress it up, that use will come under the heading of 'leisure activity', whether it's a restaurant, prosecco bar, coffee shop spa, gym or any other kind of activity that you have to physically be there for.
And because all department stores are in super premium city centre sites, don't be surprised to see some floors, where customers used to browse, turn into hotel rooms.
Here at LAW, we may have limited retail experience. But we are leisure marketing experts. Our client list includes some of the biggest names in the leisure business and we manage to help our clients stay full and profitable through our abilities in strategic planning, data handling, creative process and a thorough understanding of how people like to spend their time off. And we have the awards, based on outstanding ROI figures, to prove it. Have a look at 'Portfolio' on this site.
So if you need to revive your department store or existing retail outlet by introducing new departments that are aimed at attracting customers who are looking for new and exciting experiences, talk to us. Contact keith.sammels@lawcreative.co.uk