SEEKING OUT SMART THINKERS
by

Introduction by Robin Chowdhury, Account Director:
To further develop our fruitful relationship with the University of Hertfordshire, from which we've already discovered some talented people who have joined us here at LAW Creative, we recently presented a stand at their Careers Fair.
We're always on the lookout for smart thinking graduates who we can invite on board for placements or even full-time employment, and the sharing of experience and ideas between the new kids on the block and seasoned pros is always a mutually beneficial relationship. Here's the thoughts of one Hertfordshire graduate, Harriet Tickel, who is now a Junior Designer at LAW Creative and who spoke to students at the Careers Fair.
The university years fly by and it's strange to think it was only just one year ago that I was in my final year in university, stressing about deadlines and wondering what the future would bring.
Fast forward one year and I'm not only happily employed within the industry that I want to be in but also being asked to speak on behalf of our agency to a room full of students who are in the exact same shoes that I was in one year ago to the date. It makes me realise how far I've come, how much I have learnt and also how far a student can go in a relatively small window of time.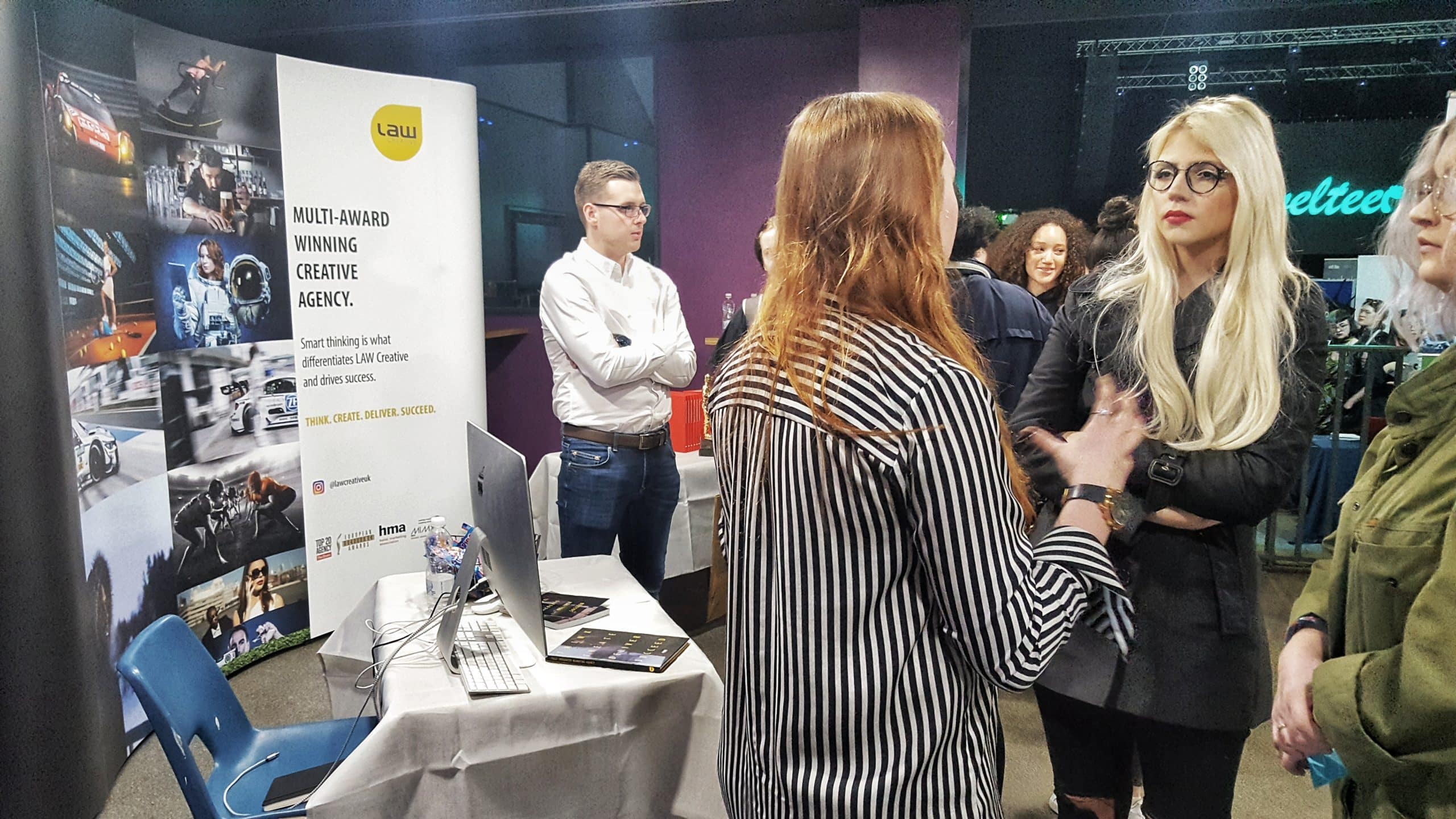 I think one of the big things that I've taken from my experiences in and out of uni so far would be that attitude is (almost) everything. Coming into the creative industry you need to try and throw yourself at the opportunities that arise, and continuously be open to learning – new softwares, new skills, new experiences – just as you must at university, only on a bigger and more real scale. I believe that everything is a learning experience and that's how I've tried to approach every challenge, both at university and at LAW Creative. Now this isn't to say that a positive attitude alone will win over a potential employer in an interview if you present a poor portfolio that shows you didn't work hard at university BUT if you do have the attitude to chase everything and keep on learning, growing and expanding then that shows through your work, your attitude in interviews and your past activities, whether they be work experiences you've sought out, passion projects or even life experiences. All these show through in your attitude and your work. If you keep driving for something you will often have to deal with lots of '"no's" but you only need one "yes". I'm glad that my "yes" came from LAW Creative.
LAW Creative is a multi-award-winning integrated marketing communications agency. To find out more, contact robin.chowdhury@lawcreative.co.uk or keith.sammels@lawcreative.co.uk.