TARGETED. FOCUSED. PROVEN.
The world has changed. Goalposts continue to shift. Now, in order to create genuine cut through and make real and significant sales, brands need to think different. With a B2B customer journey that is increasingly digital, it's time to find proven, tangible ways to target decision makers and influencers. It's time to put ABM in your marketing mix.
RIGHT AUDIENCE. RIGHT MESSAGE
"Today's buyers are more technically savvy. They're more digitally savvy. They're spending more time on their devices. And they want to engage on their time, not yours."
McKinsey & Co, 2022
In today's digital world, the traditional ways of selling to a B2B audience are outmoded. Now, customers do all the research themselves before they want to speak to your sales team. Therefore, the more personalised the marketing, the better. The solution: Account Based Marketing.
A focused growth strategy where marketing and sales work together to create truly personalised buying experiences for mutually identified high value potential customers, Account Based Marketing cuts through high complexity sales processes, long lead times and multiple stakeholders to deliver targeted messaging to the right audience.
DOWNLOAD OUR HANDY ABM GUIDE
Is ABM for everyone? How do you get started? What are the potential pitfalls?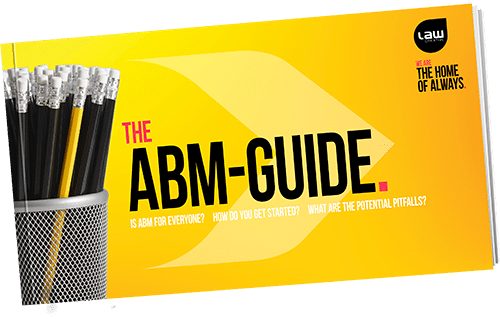 DON'T COUNT THE COMPANIES YOU REACH. REACH THE COMPANIES THAT COUNT
Unlike traditional B2B marketing, ABM is about quality, not quantity. About opening the right doors, deepening engagement and making the kinds of connections that lead to real, tangible sales for your business.
It's not rocket science. But it could just change the way you look at who you talk to – and how you talk to them.
Strategic
ABM isn't a simple campaign or a one off tactic… it's a business strategy where your customer targeting is always focused and always on.
Personalised
ABM is built on account-specific insight, content and messaging for maximum relevance and resonance.
Marketing and sales
ABM maximises the power of marketing and sales – working together to achieve results.
Open doors / deepen engagement
The ABM difference: a strategic choice – focus on landing new accounts, expand accounts you currently have, or choose to do both.
IN UNCERTAIN TIMES YOU NEED TO BE SPEAKING TO THE RIGHT AUDIENCE
We are living in uncertain times. The only thing that is predictable is that nothing is predictable. It's therefore vital that you maximise your marketing spend… maintaining or growing existing key accounts whilst at the same time winning new, sizeable pieces of business. With Account Based Marketing, you only invest marketing effort in targeted, named accounts. It is a high precision marketing strategy based on expertise rather than luck. Right message. Right audience. Right time.
MAPPING ABM TO THE SALES FUNNEL
Create a tiered marketing programme that starts by promoting your brand and all your product / service offerings
Focus on top prospects – based on size, opportunity and propensity to buy
Select key verticals or clusters of accounts with similar interests / needs and market to a focused group of 15-20 accounts (repeatable)
Build out 1:1 ABM activity to support sales with largest / hottest prospects – create tailored content and offers to close the sale

ABM ROADMAP: MAKING IT WORK FOR YOUR BRAND
Define what ABM means to your business
Introduce ABM to your executive team
ABM training for marketing and other key stakeholders
Socialise ABM with sales and other key stakeholders
Define ABM strategy with the business unit
Account segmentation and selection
Develop ABM pilots based on chosen strategy
Build out research and insight on target sector and accounts
ABM kick off workshop with sales team
Develop sector and account engagement strategy
Develop sector and account value propositions and messaging
Campaign development and activation
ABM: 1 KEY APPROACH. 2 WAYS TO EXECUTE FOR SUCCESS
So, ABM is the what. Now, here's the how. Two different brand activation strategies to create tangible engagement:
1. ACCOUNT BASED ADVERTISING (ABA)
Align marketing efforts towards the accounts with the most revenue potential
Content delivery based on target working at a particular company
High impression levels, thanks to smaller audiences and bespoke media
2. INTENT BASED ADVERTISING (IBA)
Combines contextual targeting and live intent targeting to provide key data on target account content consumption
Only display your brand to companies showing intent
No waste – focus on hot prospects only
NEXT STEP. RIGHT STEP
Ready to see what Account Based Marketing could do for you? Get in touch with Morten Kornerup, Head of ABM, or Josh Kichenside, Head of Client Services, now.
PARTNERSHIPS