STORYTELLING THAT SELLS
by

I recently attended the B2B Marketing Expo to explore as many marketing trends and case studies as I could. I was particularly interested in video content and video brand marketing… so were most of the other attendees; I had to get to seminars early if I wanted a seat!
What I've come away with is an affirmation that our storytelling approach at LAW Creative is one of the best in the industry, and that we're right to apply equal focus to what happens once a prospect has engaged with a video brand campaign.
The backdrop is that millennials are changing B2B buyer behaviour:
• 50% of B2B researchers are under 35
• 89% of B2B researchers search online before buying
• B2B researchers make 12 unbranded searches before they engage with a brand
Source: Google
According to Creative Review, millennial buyers are more interested in 'experiences' than they are 'stuff'. I'd argue that today's B2B buyer, certainly when they first engage with your content, wants an experience of what your brand stands for ahead of wanting to know what your specific products do. They want to be 'shown' not 'told'.
For example, there are a lot of 'widget' makers in the world – but what is the story behind you as a widget maker? Why do you do what you do? How does this separate you from your competitors? What is the brand experience that you offer? Why should I trust you? Show me your authenticity…
The following three areas were identified as being of particular importance:
Brand storytelling.
Perfect for building rapport with millennial decision makers.
Human beings do not make rational decisions. We like to think we do, but the truth is we make emotional decisions and then post rationalise.
This is why storytelling is such a powerful medium: storytelling allows an emotional rapport to be established between the storyteller and the watcher.
"While the brain watches a story, you'll find something interesting – the brain doesn't look like a spectator, it looks more like a participant in the action."
Source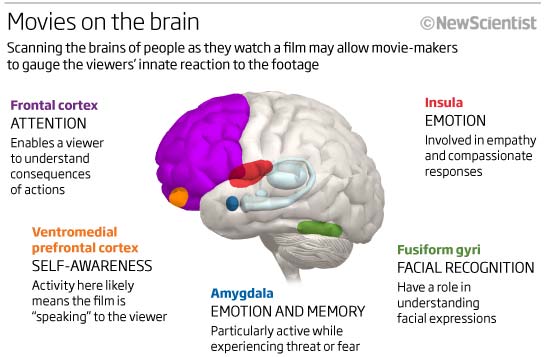 There is some debate over the exact figure, but it is argued that our brains pick up visuals faster than we process text; also that we remember a lot more of what we see compared to what we read or hear – 30% of our cortex is devoted to seeing, 8% for touch and 3% for hearing. Our eyes are attracted to movement – try to ignore your phone when the message light is blinking. Difficult isn't it?
Video content therefore attracts viewers by its very nature – it targets parts of the brain and nervous system that are predisposed to be attracted by movement.
Once the video begins, it is essential that the story resonates with the viewer – people will drop off if they find the content irrelevant and uninspiring. Millennials expect high-quality B2B video content – videos must be authentic and well-made.
Here's a good summary slide that I photographed at the B2B Expo; good pointers for creating a story framework: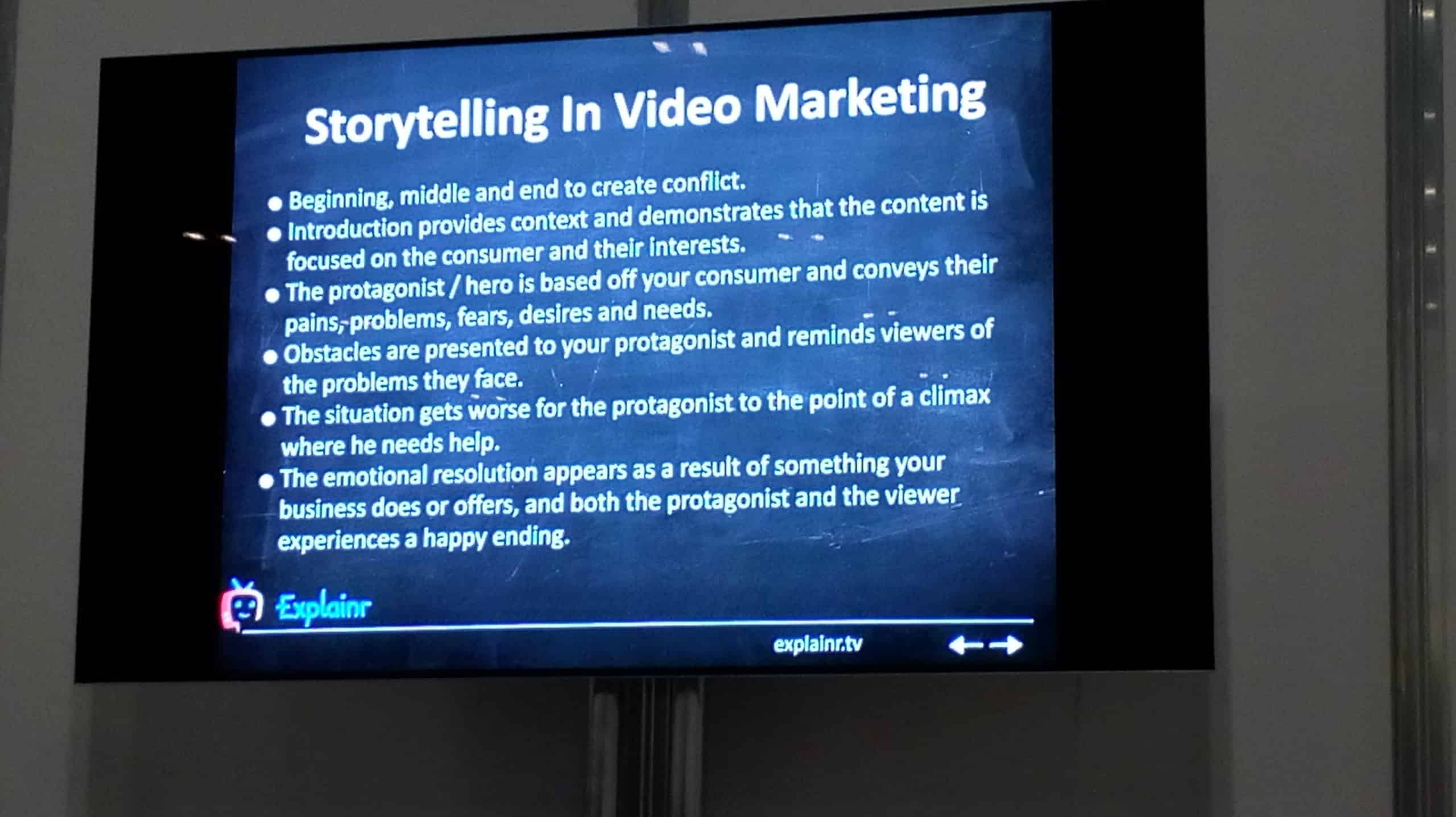 The question now is, once we have established an emotional connection, how we can deepen the relationship?…
Content layers. 
Creating breadth and depth.
Several of the speakers talked about content and storytelling in the context of the buyer's journey. The quick takeaway is that you need to create layers of content relevant to your buyer persona based on their position.

i.e. once a brand story has worked its magic (Awareness) you need to offer content that acts as an ongoing resource tool and that supports user interaction as prospects move through the following stages of the buyer's journey. This includes all types of content format and communication methods (blogs, ebooks, infographics, video etc).
A phrase I heard several times was, 'layer your content'. A quote I really liked from David Elkins, Zoho Corporation, was to 'think like Wikipedia'. In other words, make it easy for your customer to constantly engage with more and more relevant content. I am sure that we have all experienced using Wikipedia and of suddenly being aware that we are many more layers in than we initially intended (and that several hours have also passed by)?!
Brand video campaigns should therefore include the opportunity to link into deeper and deeper layers of content. The best communication format will differ by persona need. Here are some general suggestions from HubSpot: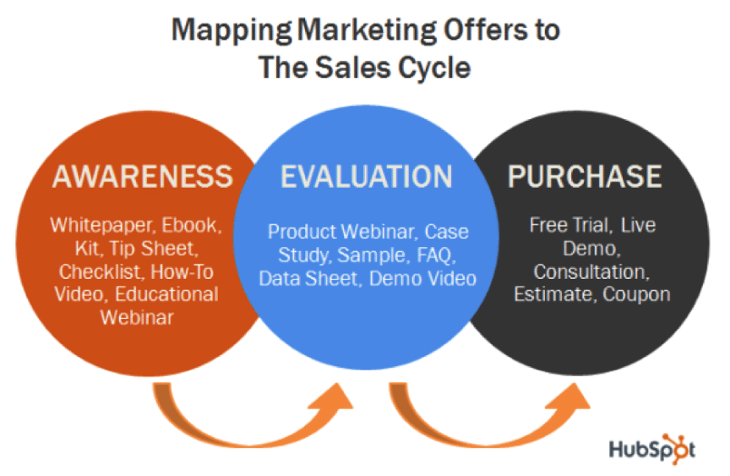 A useful slide from the B2B Expo showed the different types of video content needed across the buyer's journey. At the attract stage: 'Social, Brand Films, Culture, Explainers and Thought Leadership'. At convert stage: 'Explainers, Tutorials and Case Studies'. At the close stage: 'Tutorials, Culture and Testimonials'. I think that emphasises the depth approach for one content medium (video) and the need to align different messages / pieces of content for different stages of your buyer's journey.
Search. 
Getting people to your content and videos.
I have separated 'search' from 'content' for one reason: to highlight the importance that 'search' should play in your overall strategy, both as part of the brand storytelling and also as a gateway into your deeper content layers.
In 2017, search became a bigger referrer of traffic than social media – reversing a trend from the previous few years. With the recent Cambridge Analytica Facebook scandal it seems prudent to think that Facebook's reputation, and social media in general, will continue to take a battering.
In contrast, search marketing (including paid equivalents), can be used creatively to begin the storytelling journey.
Summary.
The conclusion is that brand video content and brand campaigns should not be considered in isolation. Brand videos should be underpinned with a deep content strategy, based around your own buyer's journey in a way that resonates with your audience and their specific needs. You should consider how millennials are changing buyer behaviour – how can you meet their expectations and high standards? How can you deliver to them an engaging and emotional experience that increases their propensity to buy?
LAW Creative is a multi-award-winning integrated marketing communications agency with an experienced team that can help deliver success for your business. To find out more, contact keith.sammels@lawcreative.co.uk.