Why the underdogs really won the Champions League
by

Last month saw some of the world's best football teams battle it out for a place in the Champions League Final. Real Madrid, Liverpool, Roma and Bayern Munich underwent a gruelling 180 minutes on the pitch in what proved to be a 'goal fest'.
Looking back on the competition as a whole there have been some pretty impressive stats, for example, Ronaldo's pursuit to extend his record of all-time highest Champions League goal scorer (120 goals in 152 games) and PSG smashing the record for the most goals scored in a single group (25 goals). But what about the stats off the pitch?
Whilst reviewing the twitter profiles for all four clubs, it was apparent that teams such as Liverpool and Roma were vastly outperforming Real Madrid and Bayern Munich. The figures showed that Liverpool, a team with 10 million Twitter followers, received 30,600 retweets and 60,000 likes on the full-time tweet that marked their semi-final victory. Compare this to the results achieved by Real Madrid, a team with 30.5 million Twitter followers, whose full-time tweet heralding their semi-final victory received only 18,000 retweets and 33,900 likes. To put this in perspective, Liverpool, a team with a third of the number of followers, received double the number of interactions with their fans.
Looking back to the quarter-finals, the full-time tweets shared by Real Madrid, Liverpool, Bayern Munich and Roma after each of their victories highlighted some rather impressive levels of engagement but again it was one of the smaller clubs that triumphed. As shown in the table below, Roma, a team with only 1.6 million followers, received a staggering 182,000 retweets and 318,000 likes. Compared to the other three teams, Roma significantly outperformed the competition with a considerably lower number of followers.
Quarter Final Full-Time Tweets
Club
Real Madrid
Liverpool
Bayern Munich
AS Roma
Total Twitter Followers
30.5M
10M
4.4M
1.6M
Full Time Tweet
20,000 Likes
9,800 Retweets
30,000 Likes


15,000 Retweets

1,900 Likes
793 Retweets
318,000 Likes
182,000 Retweets
It's a well-known fact that it is cheaper for businesses to retain customers than it is to acquire them and so building relationships with customers is invaluable. By adopting a customer-focused approach, organisations will benefit from brand loyalty and repeated purchase, subsequently leading to an increase in long-term profit.
Social media has offered businesses the opportunity to strengthen the bond with consumers. Through two-way communication, organisations can communicate messages to their customers, and customers can also communicate with businesses. This subsequently promotes a more personal connection, helping the consumer see beyond the corporate logo. It is apparent from the results above that social media has enabled the Roma and Liverpool fans to form especially strong bonds with their clubs.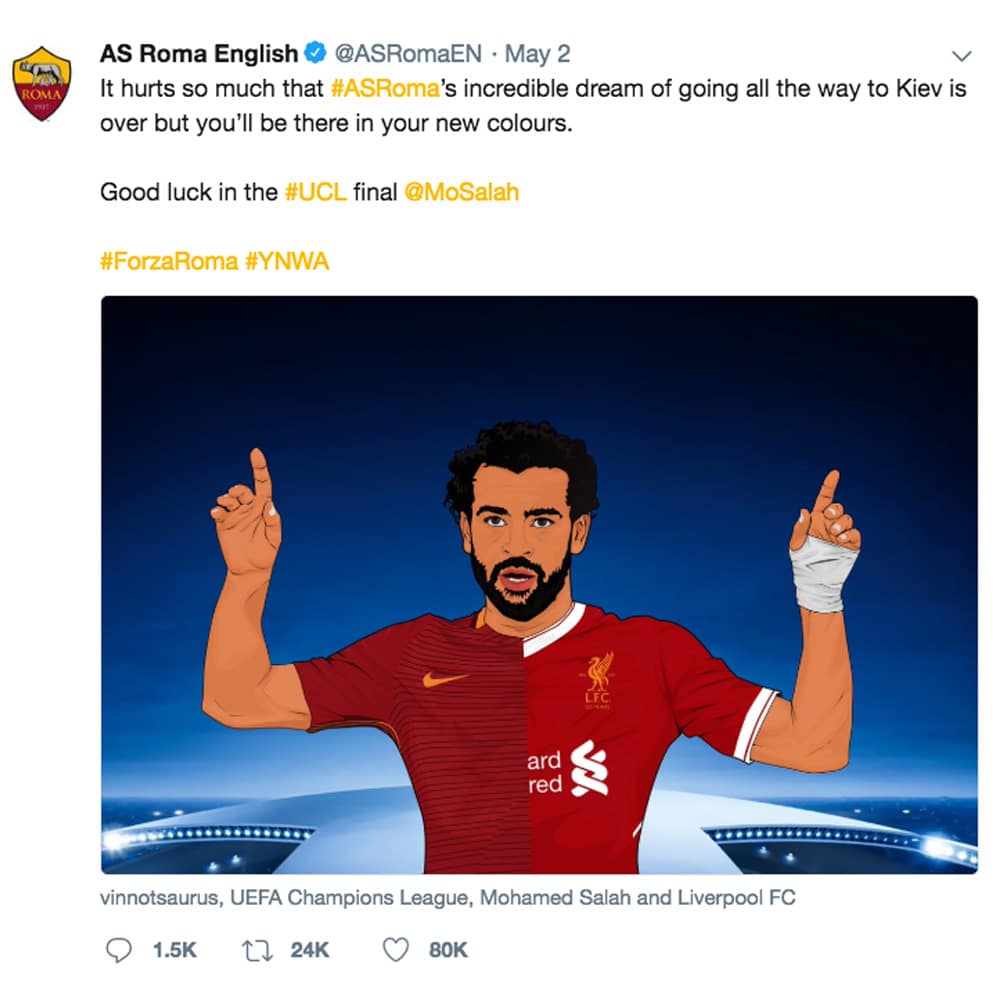 It is all well and good that we understand the benefits of social media and the effect that it can have on a business, however, it is more important to understand what kind of content engages consumers and how we get them to interact with the messaging. This is something Roma clearly understands and has been very successful in achieving.
Two elements are key when managing social media accounts: Communication and Interaction.
The communication process consists of delivering content of the following nature:
The logo
Mission statement/philosophy/vision
History
Campaign updates
General updates
Pictures
Videos
External links to web pages or documents
Sponsors
Announcements regarding news and events
Requesting input or responses from fans
The interaction process is then achieved as a result of the initial communication process, and is facilitated by the following:
Customers liking/retweeting content
Customer to customer conversations
Organisation to customer conversation
It is important that organisations maintain the two-way communication process with the consumer, otherwise the cycle, and therefore relationship, will break down.
Roma's Twitter content has been particularly successful in engaging consumers because they tailor it specifically to their audience. These consumers have specific needs about the kinds of content they wish to receive via social media channels. The difference between Roma's and Real Madrid's Twitter accounts is that Roma meets its fans' needs because the club understands what it is that its fans want to see.
For instance, a full-time tweet that was complete 'jibberish' engaged over 300,000 fans; this demonstrates how the club understand the informal and humorous nature of Twitter. The club also demonstrated the importance of emotion when delivering content; this was demonstrated by its posts on Hillsborough, Totti and Wenger. Roma understands the values that their fans hold, and this is what creates the high levels of engagement.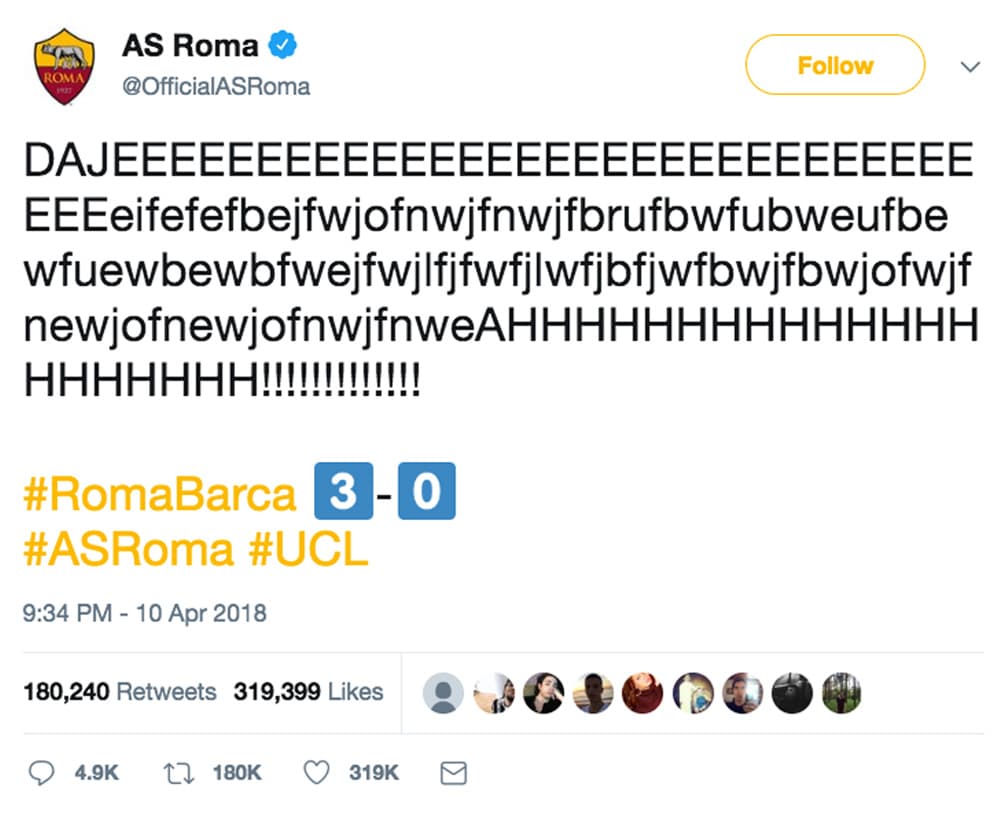 In addition, the club uses a large amount of imagery and videos to support their tweets. It is well documented that images and videos encourage customers to engage with content.
Finally, Roma's approach of @ing and retweeting fans is crucial to their success and ability to build a personal relationship with consumers. Because of this, the consumers feel valued by the club and are more likely to invest time in the organisation and engage in what they have to say.
As mentioned, consumers have needs and an organisation must be aware of these needs, whether it is through listening to conversations on social media or carrying out focus groups and market research. Once an organisation understands the consumer's needs it will be able to successfully gratify those needs and encourage fans to engage with its content.
Four things to steal from Roma's social media strategy:
Strong use of imagery and videos
@ing and direct conversations with fans
Use of market research to better understand the fans and their needs
Play on and incorporate emotion and humour
It all goes to show that you don't have to have the biggest team to get the best results, you just have to think smarter and deliver the right content. Contact LAW Creative now and start a conversation with us that will help you become champions of customer engagement. Email keith.sammels@lawcreative.co.uk, brett.sammels@lawcreative.co.uk or luke.hobbs@lawcreative.co.uk
Below: a further selection of screen grabs from Roma's highly successful social media activity